Financial Strength
Accumulated Retained Surplus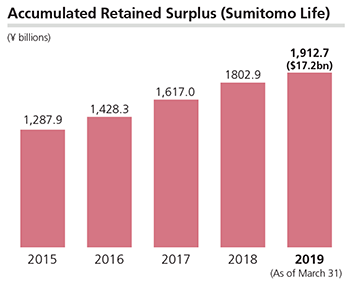 Accumulated retained surplus (Sumitomo Life)*@increased 185.9 billion in fiscal 2017, to 1,802.9@billion ($16.9 billion).
We will continue to reinforce our long-term financial strength by accumulating surplus while maintaining a good balance with the distribution of dividends to policyholders.
*Contingency reserves + Reserve for price fluctuation + Fund for price fluctuation allowance + Reserve for redemption of foundation funds + Reserve for fund redemption
Solvency Margin Ratio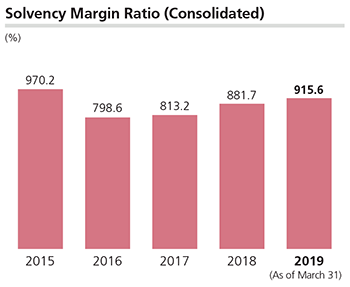 The solvency margin ratio is the ratio of total solvency margin to total risk amount, which quantifies various risks. Our solvency margin ratio was 881.7%@(consolidated) at the end of fiscal 2017. The ratio far@exceeds 200%, the level which would require administrative-intervention in Japan.
In anticipation of the introduction of an economic value-based solvency regime, we are making efforts to control risk and accumulate retained surplus referring to the Solvency II Framework of Europe and the trend of international capital regulation.
European Embedded Value (EEV)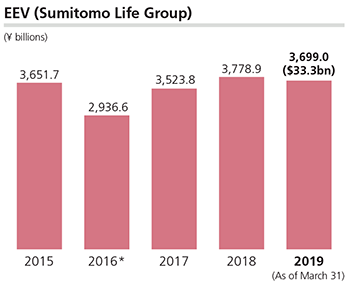 The Sumitomo Life Groupfs EEV at the end of fiscal 2017 increased 255.0 billion year on year to 3,778.9 billion, primarily due to the successful results of the insurance business such as acquiring new business and securing earnings from policies in force, which effectively covered the negative impact of decrease in domestic interest rates.
*The EEV of the Group is calculated as follows: Sumitomo Lifefs EEV plus Medicare Lifefs EEV and Symetrafs EEV attributable to Sumitomo Lifefs equity stake in Medicare Life and Symetra less Sumitomo Lifefs carrying amount of equity of Medicare Life and Symetra. Symetra has been included since the end of March 2016.
*The EEV stated after the end of fiscal 2016 is the amount restated using an ultimate forward rate.