Mission and Vision
Management Policy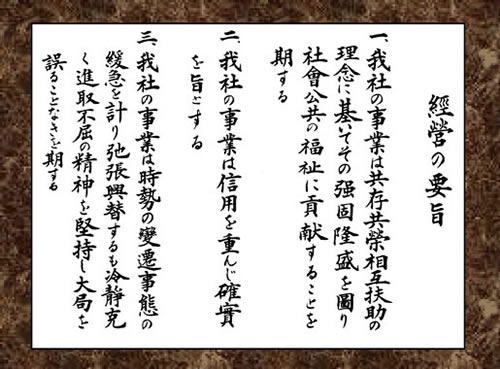 Based upon the concepts of coexistence, co-prosperity and mutual support, we strive to strengthen and expand our business, while contributing to the advancement of social and public welfare.
Creditworthiness and steadiness will be the foundation for the execution of our business.
We will always remain composed in judgment and retain a progressive and indomitable spirit, responding to changes in our environment and keeping abreast of the times.
Brand Vision
For Sumitomo Lifefs brand vision, we have declared the achievement of gFour Advanced Valuesh as our goal to empower the future of our customers.
By providing these values to each of our customers through the ongoing efforts of all of our executives and employees, we hope to distinguish the uniqueness and prominence of our services. We are sure that by continuing to thoroughly provide these values we will be able to increase the loyalty of our customers.
With the brand message gempowering your future,h which conveys the commitment to our customers in our brand vision, we hope to help protect and support our customers and their families by directly addressing their concerns as they plan for and move beyond lifefs challenges. We will do our utmost to fulfill this role, which, we believe, should form the basis of all life insurance businesses.
Brand Vision: gFour Advanced Valuesh