Sustainability
Material Issues
Under the philosophy of contributing to the realization of a society of affluence, vitality and longevity through the sound operation and development of the insurance business, which is stated in the CSR Management Policy, we aim to become the most trusted and supported company by our stakeholders including our customers, and to grow sustainably and stably by conducting honest business operations and building a sound financial base.
In addition, we have defined items that are important in the promotion of CSR management (key items of CSR) and identified the SDGs that correspond to each key item of CSR, clarifying the issues that the Company focuses on.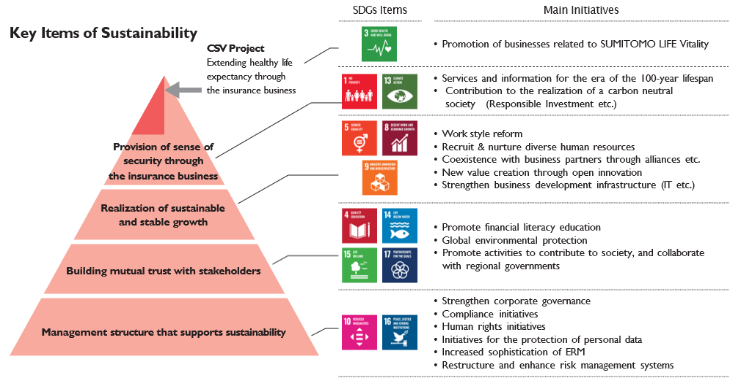 Structure
As a structure to support these efforts, the Sustainability Promotion Council has been put in place to implement initiatives to share and solve social and environmental issues, such as the SDGs. The council convenes twice a year in principle, and discussions of the council are deliberated at the Executive Management Committee, an advisory body to the President, and reported to the Board of Directors.
One of the focuses of the new medium-term business plan, which started in fiscal 2020, is to contribute to society through initiatives aimed at achieving the SDGs in our business activities, primarily by contributing to a healthy and long-living society through the promotion of SUMITOMO LIFE Vitality.
We will further pursue sustainability management, together with the medium-term business plan.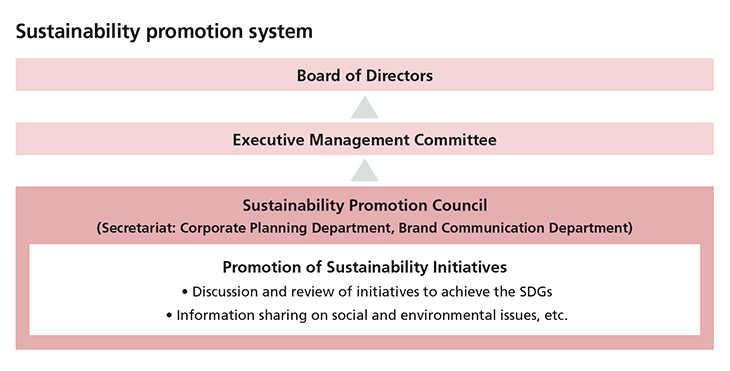 Addressing Climate Change
With climate change becoming a major talking point, as seen in the adoption of the Paris Agreement in 2015, we announced our endorsement of the final recommendations report published by the Task Force on Climate-related Financial Disclosures (TCFD), referred to as the "TCFD recommendations," which set out a framework for disclosure of information on climate-related risks and opportunities. In 2021, we decided to aim for net-zero greenhouse gas ("GHG") emissions by 2050 and set reduction targets for 2030.
Please see the following page for specific initiatives.
Initiative Indicators

CSV Project

Sumitomo Life is endeavoring to solve the social challenge of "extending healthy life expectancy" through its efforts to promote health enhancement across society and health-focused management, based on CSR management and centering around SUMITOMO LIFE Vitality. We regard these initiatives as our "CSV Project," and aim to extend healthy life expectancy in Japan by creating a new shared value of health enhancement among customers, society, and the Company and our employees

1. Provision of Vitality to customers

Through the provision of SUMITOMO LIFE Vitality Shared-Value Insurance, the core of the CSV project, we aim to improve health conditions by encouraging continuous health-enhancing activities, as well as to contribute to extending healthy life expectancy in Japan.

2. Promotion of health enhancement across society

"Sumisei Vitality Action," a social contribution program with the theme of health enhancement, uses a characteristic approach of CSV called "collective impact," whereby social issues are addressed by various actors leveraging each other's strengths, rather than through the intervention of one individual organization. Through the program, we are working on the social issue of health enhancement with the cooperation of local governments, foundations, researchers, athletes, and others. Specifically, we encourage behavior and understanding to improve health and promote health enhancement across society through these activities.

3. Promotion of health-focused management to help employees and their families become healthier

We believe that it is very important for employees and their families to value their mental and physical health and maintain their well-being (physical health, mental health, social health and happiness) so that employees can actively demonstrate their individual abilities to the fullest. Sumitomo Life supports customers' efforts to maintain and enhance their health, solves the social challenge of extending healthy life expectancy, and engages in the creation of new value that can be shared by customers, society, employees and the Company. What supports the foundation of these efforts is "awareness" and "behavior" of each employee regarding health. Based on this understanding, we have formulated the "Sumitomo Life Group Health-focused Management Declaration" and offer full support for the health maintenance and enhancement activities of our employees and their families from a management perspective. The Human Resources Department serves as a secretariat and coordinates with other departments in pursuing health-focused management. In addition, the outcomes of each year's activities and the activities for the following year are reported to and approved by management at the Executive Management Committee, which is chaired by the President and comprises Executive Officers.
Sustainability Report
We have created this report to convey our sustainability initiatives in fiscal 2020 in a format that is easy to understand for our various stakeholders. We position this report as the "Sustainability Report," provide a comprehensive report of our initiatives for sustainability, and focus on priority initiatives based on materiality.