CSV Project
We have been promoting CSR activities under the principle of contributing to the realization of a society of affluence, vitality, and longevity through the sound operation and development of the insurance business.
Under our three-year plan "Sumitomo Life Medium-Term Business Plan 2019", we aim to extend healthy life expectancy in Japan through the CSV project, which creates shared value among "customers," "society," "the company and its employees."
This will be achieved through three projects with a focus on SUMITOMO LIFE Vitality as well as encouraging health promotion of the entire society and promotion of health and productivity management to help its employees and their families become healthier.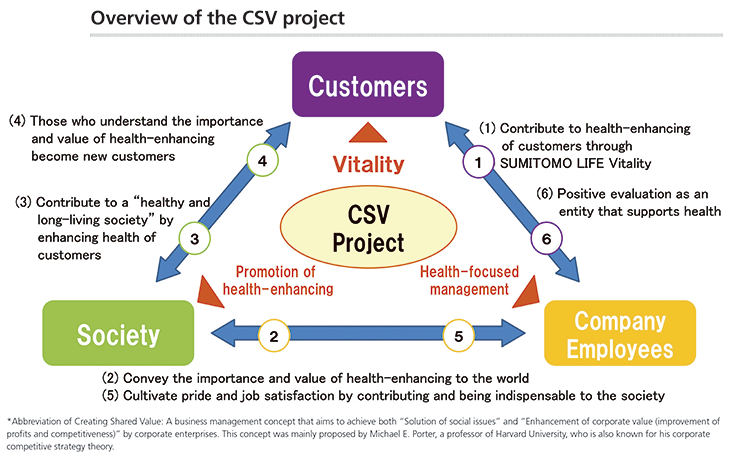 Provision of Vitality
Through the provision of SUMITOMO LIFE Vitality Shared-Value Insurance, we aim to extend healthy life expectancy in Japan through helping people get healthier by promoting health-enhancing activities of customers.
Promotion of Health-enhancing
Through "Sumisei Vitality Action," which is a CSR activity that is focused on health-enhancing, we approach the social issue of health-enhancing by collaborating with municipalities, foundations, researchers and athletes. We give people knowledge and help them to change their behavior to enhance their health.
Health-focused management
We believe that it is important for our employees and their families to live a healthy life, for each of our employees to fulfill their abilities. We believe that the start point of extending the healthy life expectancy in Japan is the awareness of health and health-enhancing activities of each and every one of our employees.