Message from the President
gEmpowering Your Futureh \ Our Promise to Customers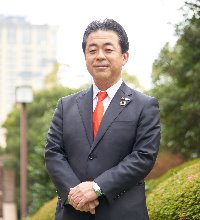 Please allow me to express my most sincere gratitude for your support of Sumitomo Life.
Since its foundation in 1907, Sumitomo Life has served its role in supporting numerous customers and their families through its life insurance business.
Recently, amid the advent of the aging population, customer needs have been increasingly diversifying such as in medical and nursing care insurance as well as retirement planning.
At Sumitomo Life, we wish to contribute to the society by answering to the needs of each individual customer and providing the most suitable type of insurance to customers and their families. We bestow such intention in the message of gempowering your futureh and are proceeding to offer advanced consulting and services.
We strive to become a presence that customers are comfortable to consult with through further refinement of gknowledge as a professional in insuranceh and gapproachabilityh so as to allow for acknowledgment of the value unique to face-to-face services. At the same time, we aim to become a company which is much trusted and supported by customers through continuous reviewing of each service from the perspective of customers and enhancing our quality.
Furthermore, along with implementation of such steady efforts, we are also putting forth efforts in further reinforcing the financial base so as to more firmly support customers, addressing diverse sales channels beginning with bancassurance, and reinforcing the revenue base through new growth strategies such as business expansion into overseas market.
We will continue with our pursuit of becoming gRecommended Company from the perspective of customersh, gFulfilling Company from the perspective of employeesh, and gIndispensable Company from the perspective of societyh through such initiatives, and as such would like to ask for your continuous support of Sumitomo Life.
Masahiro Hashimoto
President & Chief Executive Officer