Review of Operations
Annualized Premiums from Policies in Force
Reviewing our fiscal 2020 consolidated performance for the Sumitomo Life Group, annualized premiums from policies in force decreased 0.1% from the end of the previous fiscal year to ¥2,804.4 billion ($25.3 billion).
Annualized premiums from policies in force for the third-sector insurances, which we focus on as a growth area, increased 2.0% year on year to ¥601.8 billion ($5.4 billion), on the basis of two domestic entities (Sumitomo Life and Medicare Life) excluding Symetra, growing steadily for eighteen consecutive years since we started to publish such figures.
The main reason for this is that we have achieved steady results through "multi-channel, multi-product strategy" in the nursing care (including work disability) and medical insurance markets, which are expanding along with the advent of the super-aging society.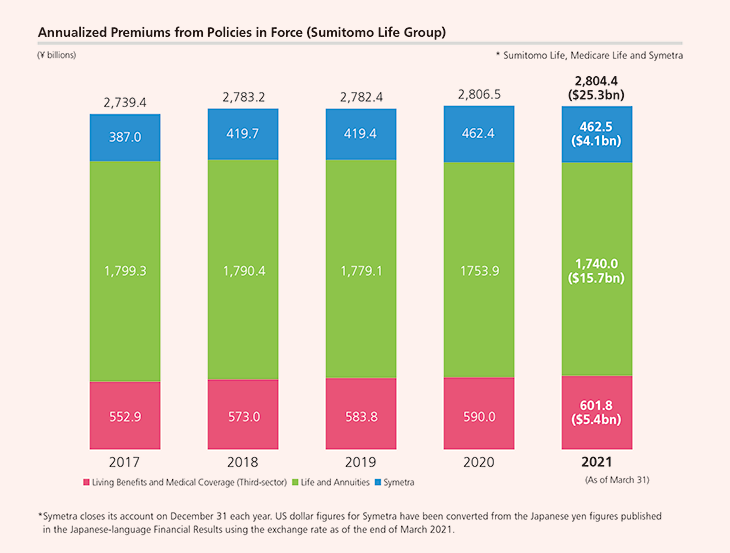 Annualized Premiums from New Policies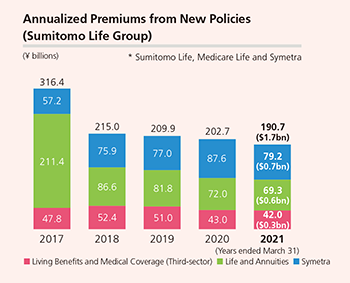 In fiscal 2020, the Sumitomo Life Group's annualized premiums from new policies decreased 5.9% from the previous fiscal year to ¥190.7 billion ($1.7 billion).
Although they decreased year on year due to the impact of the spread of COVID-19, the decrease was limited to 5.9%, mainly due to the development of systems and arrangements using remote tools.
Core Business Profit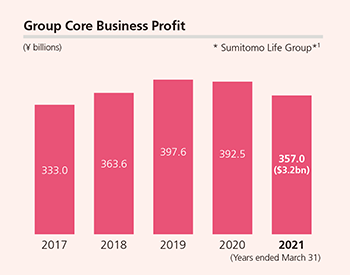 Core business profit is an indicator of the fundamental earnings strength of Japan's life insurance companies.
In fiscal 2020, the Sumitomo Life Group's core business profit decreased 9.0% from the previous fiscal year to ¥357.0 billion ($3.2 billion).
Meanwhile, the interest gain has increased for seven consecutive years after turning positive for the first time in fiscal 2014 since we started its disclosure in fiscal 2001.
*1 Group core business profit is calculated by combining core business profit of Sumitomo Life and Medicare Life, and profit before tax of Symetra, Baoviet Holdings, BNI Life, Aviva Singlife Holdings, and PICC Life attributable to Sumitomo Life's equity stake in each company, with adjustments made to some internal transactions.
Accumulated Retained Surplus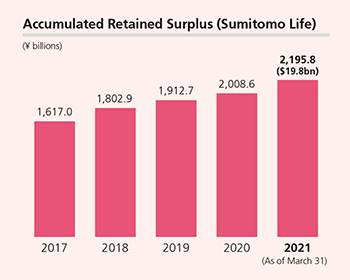 Accumulated retained surplus (Sumitomo Life)* increased ¥187.2 billion in fiscal 2020, to ¥2,195.8 billion ($19.8 billion).
We will continue to reinforce our long-term financial strength by accumulating surplus while maintaining a good balance with the distribution of dividends to policyholders.
*Contingency reserves + Reserve for price fluctuation + Fund for price fluctuation allowance + Reserve for redemption of foundation funds + Reserve for fund redemption
Solvency Margin Ratio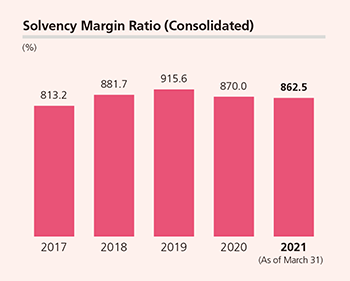 The solvency margin ratio is the ratio of total solvency margin to total risk amount, which quantifies various risks. Our solvency margin ratio was 862.5% (consolidated) at the end of fiscal 2020. The ratio far exceeds 200%, the level which would require administrative-intervention in Japan.
In anticipation of the introduction of an economic value-based solvency regulation, we are making efforts to control risk and accumulate retained surplus based on the Insurance Capital Standard (ICS) being developed by the International Association of Insurance Supervisors.
European Embedded Value (EEV)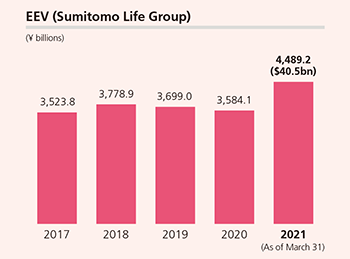 The Sumitomo Life Group's EEV at the end of fiscal 2020 increased ¥905.0 billion year on year to ¥4,489.2 billion due to the positive results of the insurance business such as acquiring new policies and securing earnings from policies in force, as well as the positive impact of rising domestic interest rates and domestic stock prices.
*The EEV of the Group is calculated as follows: Sumitomo Life's EEV plus Medicare Life's EEV and Symetra's EEV, less Sumitomo Life's carrying amount of equity of Medicare Life and Symetra.