Review of Operations
Group Annualized Premiums from Policies in Force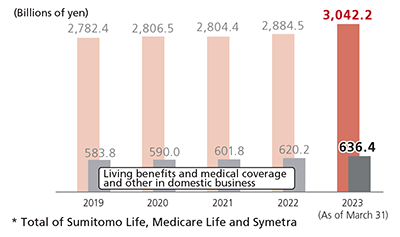 Annualized premiums from policies in force for the Group as of March 31, 2023 amounted to ¥3,042.2 billion. Annualized premiums from policies in force for living benefits + medical coverage and other (total of two domestic entities), which we focus on as one of the growth areas, increased 2.6% compared to the end of the previous fiscal year to ¥636.4 billion, growing steadily for twenty consecutive years since we started to publish such figures.
We believe that these are the results of our effort to offer insurance products and services through multiple channels, including sales representatives, bancassurance-banks, financial institutions, etc. and insurance outlets while responding to the changing social environment and diversifying customer needs.

Annualized premiums from policies in force is an indicator obtained by computing premiums of each policy in force on an annual basis and adding them all up.
European Embedded Value (EEV)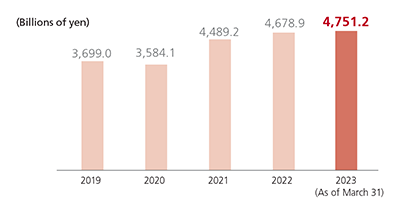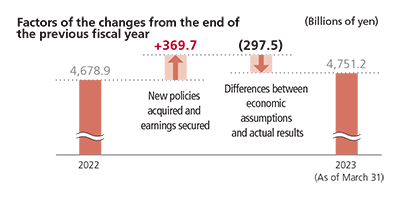 * The EEV of the Sumitomo Life Group is calculated as follows: Sumitomo Life's EEV plus Medicare Life's EEV and Symetra's EEV, less Sumitomo Life's book value of equity of Medicare Life and Symetra.
The Sumitomo Life Group's EEV increased by ¥72.2 billion compared to the end of the previous fiscal year due to the positive results of the insurance business such as new policies acquired and earnings secured from policies in force, despite the negative impact of rising overseas interest rates and other factors.
European Embedded Value (EEV) is an indicator of corporate value of an insurance company and shows such things as financial soundness and growth potential of the company.
Consolidated Insurance Premiums and Other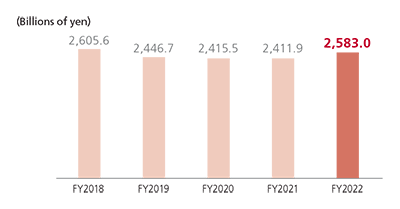 Consolidated insurance premiums and other increased 3.4% year on year for the Group as a whole, mainly due to an increase in sales of foreign currency-denominated, single premium insurance at Sumitomo Life due to rising overseas interest rates and other factors.
Insurance premiums and other consist largely of insurance premiums paid in by policyholders and reinsurance revenue, and account for the majority of our income.
Group Core Business Profit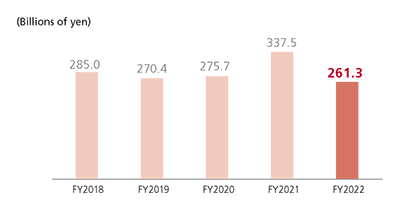 * Calculated by combining core business profit of Sumitomo Life and Medicare Life, and profit before tax of Symetra, Baoviet Holdings, BNI Life, Singlife Holdings and PICC Life attributable to Sumitomo Life's equity stake in each company, with adjustments made to some internal transactions. Including profit before tax of Singlife Holdings generated after Sumitomo Life's investment in it (Period covered in FY2019: July 2019 to December 2019).
* The core business profit is based on the new definition applied from fiscal 2022, including the inclusion of hedging costs related to foreign exchange in the calculation. Figures for prior years are also calculated using the same definition.
The Group core business profit decreased 22.6% compared to the previous year, mainly due to an increase in Sumitomo Life's payments of hospitalization benefits related to COVID-19 infection.
Core business profit is an indicator that shows the status of basic profit or loss for a period that is comprised of insurance-related revenue and expenses, including insurance premiums income and payment of insurance claims and operating expenses, and investment-related revenue and expenses consisting largely of interest and dividend income.
Consolidated Solvency Margin Ratio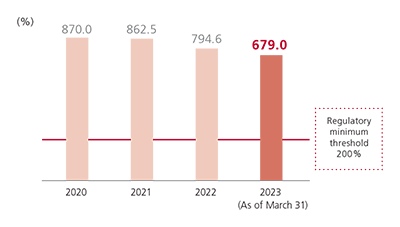 Consolidated solvency margin ratio stood at 679.0%, demonstrating that we have adequate payment capability.
The solvency margin ratio is an indicator that shows the capability of an insurance company to pay insurance claims (soundness) in the wake of an event that cannot normally be predicted, such as a big disaster or a stock market crash. If this figure falls below 200%, the insurance company will be subject to a business improvement order by a supervisory authority.
Consolidated ESR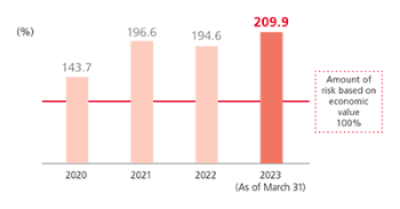 The consolidated ESR*1 is 209.9%, which is an adequate risk buffer against risk.
*1 Sumitomo Life's internal risk management figures are shown.
ESR (Economic value-based Solvency Ratio) is an indicator of soundness similar to the solvency margin ratio, and is a quantified comparison of capital and risk based on an economic value-based*2 assessment of assets and liabilities. The introduction of ESR into solvency regulations beginning in FY2025 is being considered.
*2 Value is evaluated using assumptions (interest rates, mortality rates, etc.) as of the valuation date.