Sustainability
Materiality
We have defined the Materiality (Key Items of Sustainability) based on the Sustainability management Policy. We have identified main initiatives for each of the five materialities to clarify the main issues we focus on.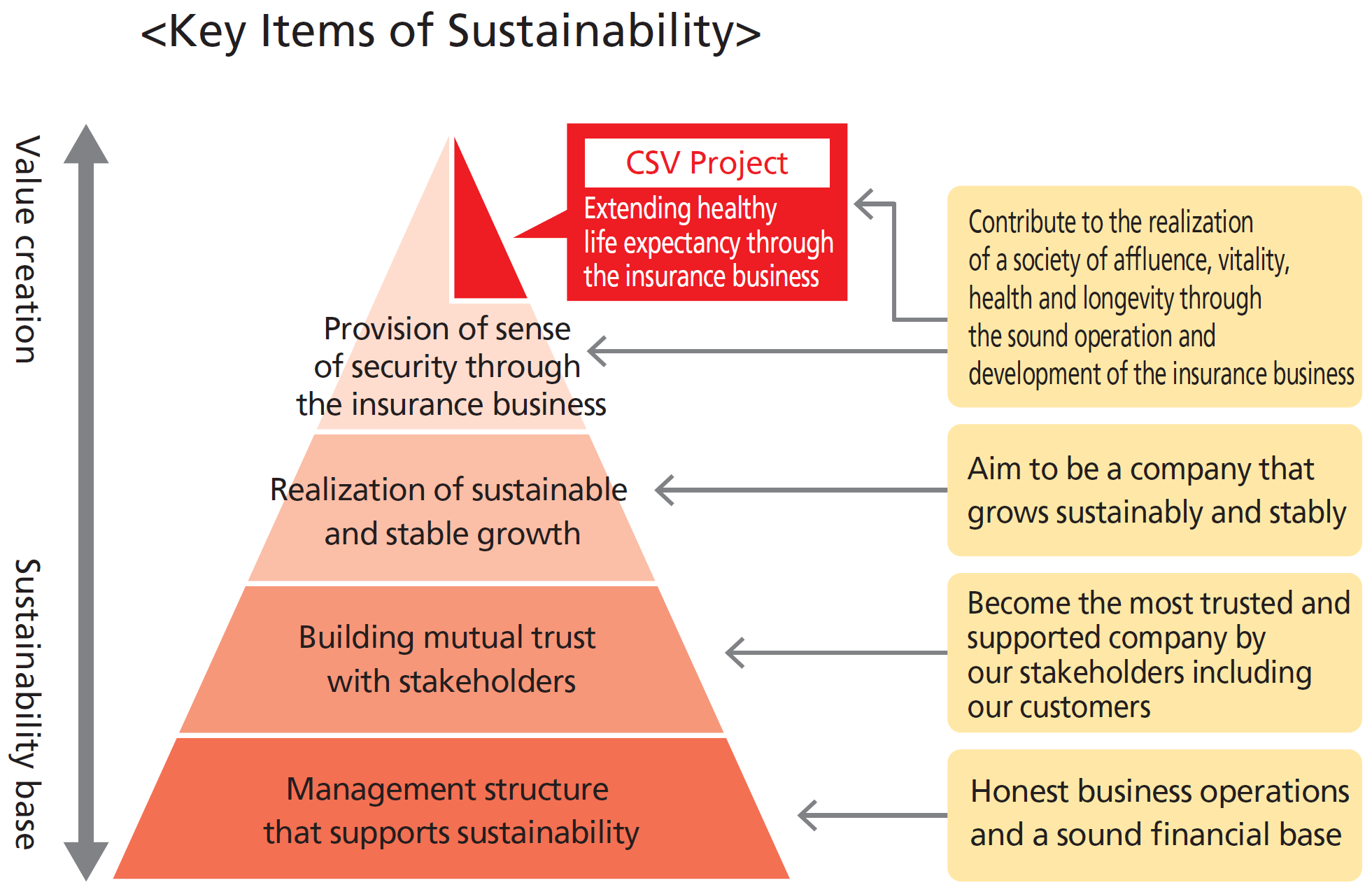 Main issues (Main Initiatives) for Materiality
For each materiality, we have identified main issues (main initiatives) that we must focus on in order to achieve the materiality.
Materiality
Main Issues (Main Initiatives)
Relevant SDGs
Extending healthy life expectancy through the insurance business
・Promotion of businesses related to "SUMITOMO LIFE Vitality"
Provision of sense of security through the insurance business
・Services and information for the era of the 100-year lifespan
・Responsible investment for sustainability (*)
Realization of sustainable and stable growth
・Improving productivity by reforming work styles and optimizing resources
・Recruitment and co-development of flexible and diverse human capital
・Coexistence with business partners through alliances, etc.
・New value creation through open innovation
・Diversify revenue base through overseas operations
・Strengthen business development infrastructure (IT, etc.)
Building mutual trust with stakeholders
・Promote financial literacy education
・Contributing to the realization of a carbon-neutral society
・Providing community-based wellbeing services
・Promote activities to contribute to society
Management structure that supports sustainability
・Strengthen group-based management structure
・Compliance initiatives
・Human rights initiatives
・Personal data protection initiatives
・Promote ERM management and enhance risk management systems
*Responsible investment contributes to the achievement of all SDGs
Structure
In order to address important management issues (Key Items of Sustainability: materiality) based on our Sustainability Management Policy, we define our initiatives in our management plan and review them.
The Management Plan is deliberated at the Executive Management Committee, which is an advisory body to the President, and then resolved by the Board of Directors.

Response system for social and environmental issues
We have established the Council for Promotion of Social and Environmental Sustainability to examine initiatives for contributing to social and global environmental well-being, which is the foundation of a sustainable society. The Council formulates an annual plan, the "Social and Environmental Sustainability Promotion Plan," and has a system in place for quarterly progress checks and semi-annual reviews.
This annual plan is formulated through deliberations by the Executive Management Committee, an advisory body to the President, and reports to the Board of Directors.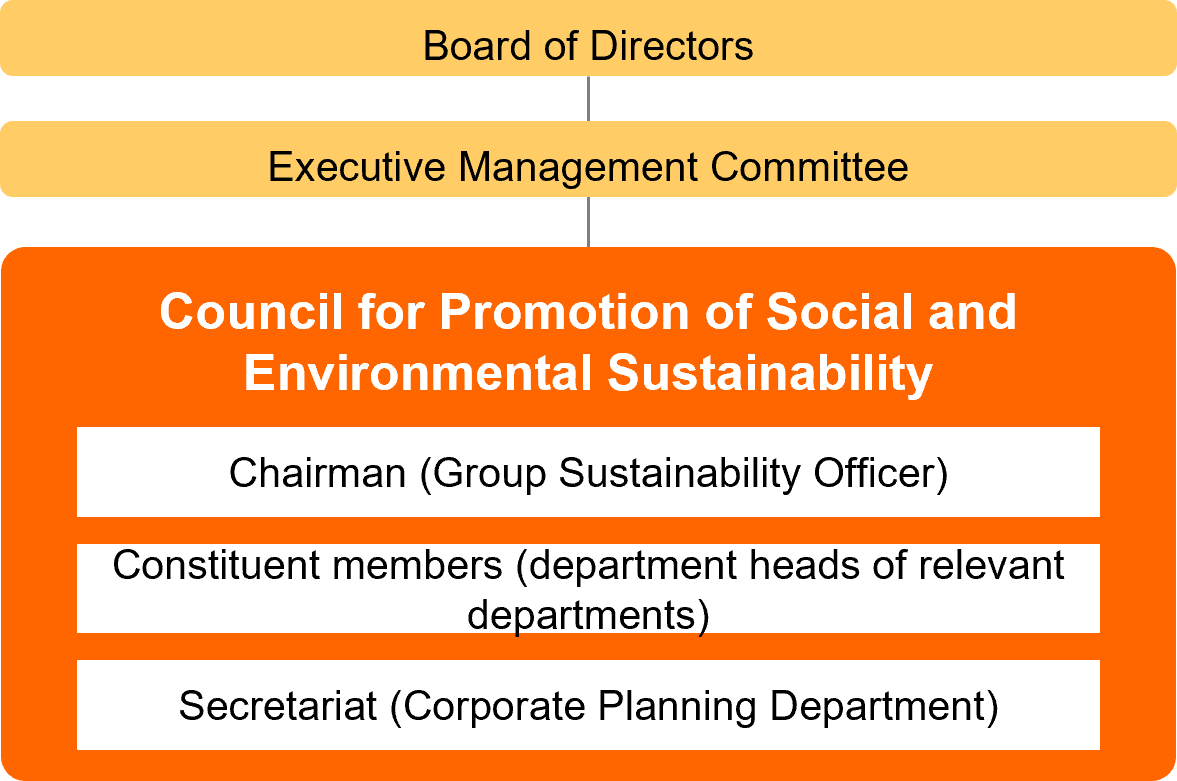 Purpose of the Council
・Examine initiatives to contribute to global environmental and social wellbeing, which is the foundation of a sustainable society.
・Formulate and review the "Social and Environmental Sustainability Promotion Plan" for "carbon neutrality" and "social contribution activities," the main initiatives for materiality.
・Evaluate the impact of newly arising issues on our business and examine whether or not to incorporate them from the perspective of social and environmental issues.
・Examine group-based initiatives for social and environmental issues.
・Promote disclosure of information related to social and environmental sustainability.
CSV Project
Sumitomo Life is endeavoring to solve the social challenge of "extending healthy life expectancy" through its efforts to promote health enhancement across society and health-focused management and centering around SUMITOMO LIFE Vitality. We regard these initiatives as our "CSV Project," and aim to extend healthy life expectancy in Japan by creating a new shared value of health enhancement among customers, society, and the Company and our employees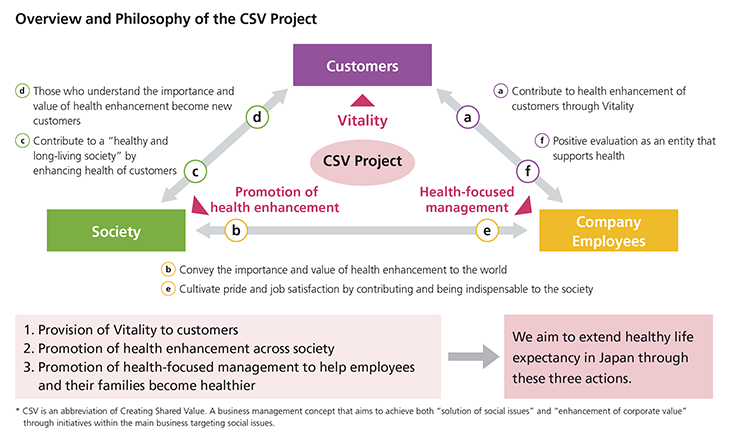 1. Provision of Vitality to customers
Through the provision of SUMITOMO LIFE Vitality Shared-Value Insurance, the core of the CSV project, we aim to improve health conditions by encouraging continuous health-enhancing activities, as well as to contribute to extending healthy life expectancy in Japan.
2. Promotion of health enhancement across society
"Sumisei Vitality Action," a social contribution program with the theme of health enhancement, uses a characteristic approach of CSV called "collective impact," whereby social issues are addressed by various actors leveraging each other's strengths, rather than through the intervention of one individual organization. Through the program, we are working on the social issue of health enhancement with the cooperation of local governments, foundations, researchers, athletes, and others. Specifically, we encourage behavior and understanding to improve health and promote health enhancement across society through these activities.

3. Promotion of health-focused management to help employees and their families become healthier
We believe that it is very important for employees and their families to value their mental and physical health and maintain their well-being (physical health, mental health, social health and happiness) so that employees can actively demonstrate their individual abilities to the fullest. Sumitomo Life supports customers' efforts to maintain and enhance their health, solves the social challenge of extending healthy life expectancy, and engages in the creation of new value that can be shared by customers, society, employees and the Company. What supports the foundation of these efforts is "awareness" and "behavior" of each employee regarding health. Based on this understanding, we have formulated the "Sumitomo Life Group Health-focused Management Declaration" and offer full support for the health maintenance and enhancement activities of our employees and their families from a management perspective. The Human Resources Department serves as a secretariat and coordinates with other departments in pursuing health-focused management. In addition, the outcomes of each year's activities and the activities for the following year are reported to and approved by management at the Executive Management Committee, which is chaired by the President and comprises Executive Officers.
Sustainability Report
We published the "Sustainability Report," provide a comprehensive report of our initiatives for sustainability, and focus on priority initiatives based on materiality.