Message from the President
Aspiring to be an "indispensable" company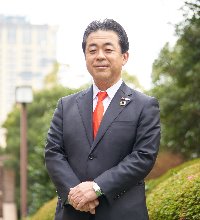 Please allow me to express my most sincere gratitude for your support of Sumitomo Life.
Since its foundation in 1907, Sumitomo Life has served its role in supporting numerous customers and their families through its life insurance business.
The advent of the super-aging society in which a 100-year lifespan is well within the bounds of possibility is spurring diversification of customer needs for life insurance. In order to meet these diverse needs, in addition to insurance providing death protection, medical and nursing care insurance, products ensuring financial security in old age, and other products, we launched SUMITOMO LIFE Vitality Shared-Value Insurance in 2018. This product not only provides risk coverage but also supports customers' efforts to enhance health so as to reduce risk.
Furthermore, from the viewpoint of offering the optimum insurance precisely responding to the needs of each customer, we are emphasizing consulting and services that embody unique human value while making the best use of digital technology. Along with these initiatives, we are also taking steps to further reinforce the financial base so as to more firmly support customers, addressing diverse sales channels beginning with bancassurance, and strengthening the revenue base through new growth strategies such as business expansion into overseas markets and promotion of new businesses.
The Sustainable Development Goals (SDGs) set by the United Nations in 2015 are inspiring mounting interest in the realization of a sustainable society. Adhering to our management policy of "contributing to the advancement of social and public welfare," we are convinced that we will be able to contribute to the achievement of the SDGs by promoting initiatives in accordance with the concept of Creating Shared Value (CSV), which is a business management concept referring to the achievement of both "resolution of social issues" and "enhancement of corporate value" through initiatives within an enterprise's main business targeting social issues. Based on this approach, we will offer attractive products, such as SUMITOMO LIFE Vitality Shared-Value Insurance, so as to support our customers throughout their lives, and also work to further enrich our products and services in an aim to be an enterprise capable of contributing to the well-being of our customers and society.
We will continue our endeavors to realize our aspiration to be an "indispensable" company for customers, employees, and society and as such I would greatly appreciate your continued support of Sumitomo Life.
Yukinori Takada
President & Chief Executive Officer